Hänsel and Gretel and Tom
From Sound Horizon Wiki
Hänsel and Gretel and Tom are secondary characters in the album, Märchen. Although they never had their own orchestrated revenge tragedy, Hänsel and Gretel were central to the execution of the nun's revenge, the fruits of which they shared with Tom. Their singing and speaking voices were provided by Kazuki Kiriyama, Sayumi Kobayashi and Miyuki Sawashiro respectively, with the former two reprising their roles and Tatsuya Otsubo playing Tom for the live concerts.
Name
The titular characters of the well-known story collected by the Brothers Grimm[1] are the namesakes of the two siblings, and clearly who their characters are heavily based off as well. The origin of Thomas' name (or "Tom" as he is also called), however, is unknown.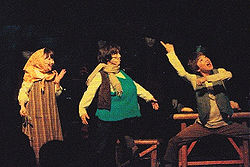 Appearance
All three children wear simple peasant clothes. Hänsel is portrayed to be wearing a plain sleeveless shirt and vest over a long-sleeved blouse, as well as a scarf, breeches with patches over the knees, and boots. Gretel wears a dress over a long-sleeved blouse, boots, and dons kerchiefs to cover her head and shoulders. Although Tom has no concept art by Yokoyan, the live portrayal shows him to wear a long-sleeved shirt, a vest, patched-up breeches and boots. All three of them start out lean, though Hänsel grows fat after consuming much food.
Role
Hänsel, Gretel and Tom appear in the latter half of Kakei no Majo, after Märchen von Friedhof begins to conduct the nun's revenge. Lost in the forest after the nun urges the birds to eat their breadcrumb trail, Hänsel and Gretel follow the birdsong of white birds until Gretel spots a house in the forest. Although Hänsel initially expresses worry over it being the residence of a witch, the siblings agree that it is better than dying of hunger.
The door is opened by an old woman who invites the two to eat as much as they want. Hänsel and Gretel feast to their heart's content until Hänsel grows quite fat and Gretel begins to suspect the old woman to be a cannibalistic witch. While the woman is checking the oven, Gretel takes the opportunity to kick her into the stove and close the door behind her, roasting the woman alive.
Delighted at their escape, Hänsel and Gretel take the woman's inheritance and show off their loot to their neighbor, Tom.
Theories
Witch Hunters
It has been theorized that Hänsel and Thomas eventually grow up to be Hans and Tom, the two men wearing plague doctor costumes in Hikari to Yami no Douwa. The two sets of characters share similarities in body shape and speech patterns, furthering speculation. Presumably, Hänsel and Thomas may have developed a taste for hunting down witches after their initial success, leading them to eventually pursue the so-called Witch of Thuringia, Therese von Ludowing.
This possibility also offers great ironic implications considering the association between Märchen von Friedhof and März von Ludowing, and the events of Ido e Itaru Mori e Itaru Ido.
Related pages
References
↑ J. and W. Grimm, "Hänsel and Gretel", (D. L. Ashliman, Trans., 2011). Retrieved 7 January, 2012.