Halloween to Yoru no Monogatari
From Sound Horizon Wiki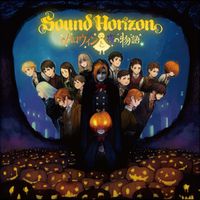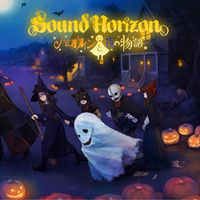 Halloween to Yoru no Monogatari ( ハロウィンと夜の物語 The Story of Halloween and The Night) is the fourth major single released by Sound Horizon under Pony Canyon on October 9th, 2013 in Japan.
Tracklist
Themes and Structure
Characters
The Nameless Man
The protagonist of Hoshi no Kirei na Yoru. He passed on at the end of the song and assumed the appearance of The Halloween Night.
The Halloween Night
The narrator of Hoshi no Kirei na Yoru as well as part of the parade in Asa Made Halloween.
Lenny
Kathleen Livermore's son. He was born as a fairly sickly child and later passed on after his first time of joining Halloween.
Kathleen Livermore
Lenny's birth mother as well as The Nameless Man's assumed little sister. She crossed the sea with her husband to reach America during her pregnancy, and they built their new life in San Francisco. She eventually lost her son due to an incident.
    See also: Minor Halloween to Yoru no Monogatari characters
Personnel
Singers
Choruses & Voices
Voices
Narrations
Musicians
Guitars: Takeshi Nishiyama
Bass: Atsushi Hasegawa
Piano: Eiji Kawai
Drums: Ken☆Ken

Alto Sax & Solo Clarinet: Makoto Hirakawa
Banjo, Irish Bouzouki & Mandolin: Koichirou Tashiro
Harp: Tomoyuki Asakawa
Percussion: Mataro Misawa
Solo Violin: Gen Ittetsu

<Gen Ittetsu Strings>
First Violin: Ittetsu Gen, Maki Nagata, Osamu Iyoku, Kaoru Kuroki, Kazuko Kaiwa, Shiori Takeda
Second Violin: Takuya Mori, Yuko Kajitani, Yayoi Fujita, Leina Ushiyama
Viola: Shouko Miki, Daisuke Kadowaki
Cello: Ayano Kasahara, Toshiyuki Muranaka
Contrabass: Yoshinobu Takeshita

Trumpets: Masanori Suzuki, Shiro Sasaki, Shinichi Yamashita
Trombones: Kanade Shishiuchi, Shinsuke Torizuka, Koichi Noroshita
Horns: Takashi Naitou, Toyohide Watanabe, Kazuya Inomata, Junko Kitayama
Tuba: Masashi Kina

Flute, Piccolo & Tin whistle: Hideyo Takakuwa
Oboe: Satoshi Shouji, Hokuto Oka
Clarinet: Kimio Yamane
Fagotto: Masashi Maeda, Akira Ishikawa

Choir: Choir -Kyo- (Ritsuyukai) & Ensemble OtonoHa
[Choir Director: Yoshinori KOBA]

Children's Choir: SUGAMO CHILDREN'S CHORUS