Ido e Itaru Mori e Itaru Ido
From Sound Horizon Wiki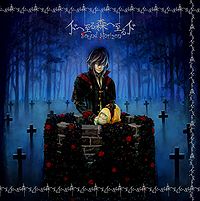 Ido e Itaru Mori e Itaru Ido (イドへ至る森へ至るイド «Ido» that leads to the Forest that leads to «Ido») is a Maxi Single by Sound Horizon. It went on sale on June 16th, 2010, being the third single of the band released from a major label.
This single, tagged as "Prologue Maxi", is the preface to the 7th Story Märchen, and features one of the most reduced casts since Sound Horizon's leap to major. One of the main highlights of that fact is that Jimang was not participating in a Sound Horizon work for the first time since 2002, and the appearance of the vocaloid Hatsune Miku as one of the guest singers.
The atmosphere of the single is inspired by medieval Germany.
Theme and Structure
In accordance to the norm of the preceding two singles, Ido e Itaru Mori e Itaru Ido features three main tracks. Those tracks are narrated by Märchen von Friedhof, Elisabeth von Wettin and Therese von Ludowing respectively, though all of them provide different perspectives on the same series of events that led to the beginning of Märchen. As a result, the single as a whole lacks chronological consistency, with each song describing several events that may seem disjoined at first, only to find its connection to the larger picture when the other two songs fill in the blanks.
Both the RE and LE edition of the single come with a short bonus track, though their contents differ. The bonus track for the RE edition is Therese, Moshiku wa Elise no Tame ni...(テレーゼ、もしくはエリーゼの為に… For Therese, or perhaps Elise...), a piano improvisation of a major theme in Märchen to background sounds of a rainstorm. On the other hand, the bonus track for the LE edition is Kuroki Shi no Koushin (黒き死の行進 The Progression of the Black Death), a strings quartet arrangement of the same theme accompanied with sound effects that presumably correspond to the spread of the black plague.
Setting
The story takes place during the middle ages in Germany, in the general area of Thüringen known for its vast and lush forests that play an integral part in the single. Though a specific time period was never given, an approximation could be determined by considering the historical events that were occurring simultaneously, such as the spread of the black plague and the witch hunts in Europe.
Tracklist
※Translation by Defade
Personnel
Vocals
Narration
Akio Ohtsuka, Rica Fukami, Nobuo Tobita, Miyuki Sawashiro, Asuka Tanii, Toru Okawa, Saki Fujita, Sascha.