The main song from Sound Horizon's new Maxi Single Vanishing Starlight, will be based on the popular Japanese children's short story "The Nighthawk Star" (Yodaka no Hoshi) by Kenji Miyazawa.
The song will be titled "Yodaka no Hoshi", the title of the original story, and its Music Video will be an animation short. There animation will be produced by Kamikaze Douga, the same company that produced the opening to the TV Anime series JoJo's Bizzarre Advenure.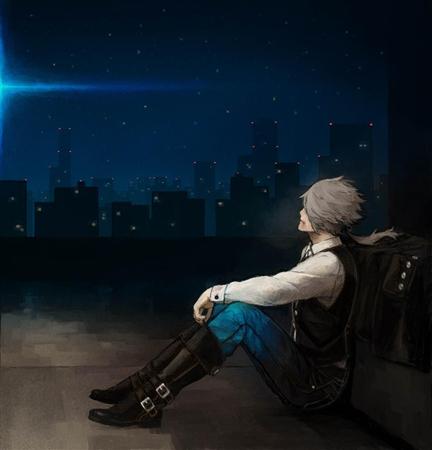 An illustration taken from the Music Video was revealed by online newspaper Sanspo.com. The full tracklist of the single has also been revealed today, as it can be seen below. The second track, Mother, is a song by Sound Horizon that was played live for the first time in 2006 and has never been recorded. This will be the first time we will get to listen to the song, as covered by the "fictional" band Vanishing Starlight.
Anniversary Maxi Single "Vanishing Starlight"
REGULAR EDITION

Release: October 1st, 2014

Price: 1,000 yen

Yodaka no Hoshi
Mother
Interview with Noël

LIMITED EDITION

Release: October 1st, 2014

Price: 1,800 yen

Yodaka no Hoshi
Mother
Interview with Noël

BONUS BLURAY

Yodaka no Hoshi MV

DELUXE EDITION

Release: October 1st, 2014

Price: 10,000 yen

Yodaka no Hoshi
Mother
Interview with Noël

BONUS BLURAY

Yodaka no Hoshi MV
Vanishing Starlight in high-resolution audio
National Anthem (new recording)

MEMORIAL ISSUE (Book)

Illustrations by Yokoyan
Introduction to the members of VANISHING STARLIGHT
Interview to Band Producer Revo and the band VANISHING STARLIGHT
Interview to Revo and the Music Video Director
Music Video image board
Music scores for Yodaka no Hoshi
Chorus scores for the SHK National Anthem