A new Maxi Single called "Vanishing Starlight" was announced two weeks ago. A few more details have been revealed today, and some of the theories surrounding this mysterious release have been (partly) confirmed. Warning: this is about to get confusing.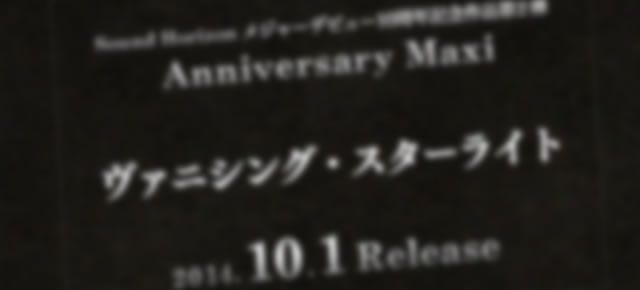 Is Vanishing Starlight the new single, or a new band?
You may have seen those messages on LINE, announcing the major debut of a new band:
"The new band produced by Revo, VANISHING STARLIGHT, will make its major debut under the BUNY ONION label on the 1st of October."
This conflicts with the information given by the Sound Horizon official website, which says that Sound Horizon will release a single called "Vanishing Stardust" on October 1st. Who is the liar here?
Actually, both are right. Remember the "falsely similar" world? Well, turns out the messages on LINE come from a parallel world. The new Maxi Single "Vanishing Starlight" will be set in this world, in a place that looks like modern-day Japan, but is slightly different. In this parallel world, there is a music band called VANISHING STARLIGHT (in capital letters). The story of the Maxi Single will revolve around this band and its major debut.
Then, is VANISHING STARLIGHT actually releasing a debut single?
Chances are, this is just part of the story within Sound Horizon's Maxi Single. Since VANISHING STARLIGHT only exists within the world of Sound Horizon's maxi single, the release won't exist in the real world, so to speak.
What the…?
This is probably Revo's way of celebrating the beginnings of Sound Horizon. All this is nothing but speculation based on the information given by Sound Horizon's official website and LINE account.
* * *
Regular edition limited edition and deluxe edition
The single will contain 3 songs, but the song titles and singers/musicians haven't been revealed yet. The limited edition will include a BluRay with a Music Video, and the Deluxe edition will include:
Music Video
3 tracks with Hi-res sound
New recording of the National Anthem (SHK)
A memorial issue (a book) with:

Illsutrations by Yokoyan
An introduction to the members of VANISHING STARLIGHT
Interview to band producer Revo and the band VANISHING STARLIGHT
Interview to Revo and the Music Video director
Music video image board (continuity board)
Band music scores for Track 1
Chorus scores for the SHK National Anthem
The deluxe version will only be available for preorder and will cost 10,000 yen.
("Vanishing Starlight" by Sound Horizon is not available for preorder yet.)